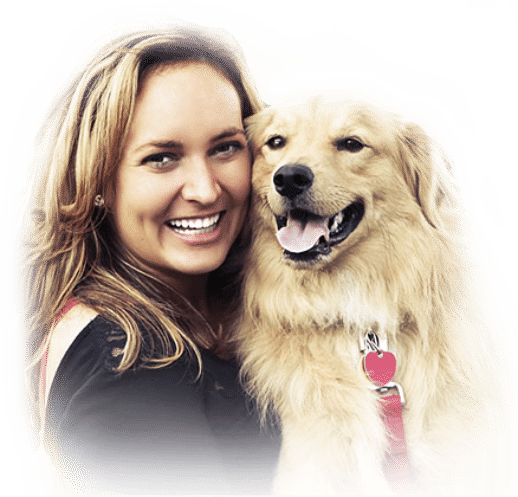 Earn Your Dog's Respect,
Admiration and Obedience
"We are a woman-centric company,
so our training reflects a mother-like teaching style that is firm, fair and friendly."
We are a woman-centric company, so our training reflects a mother-like teaching style – firm, fair and friendly. We rely on rules and boundaries – quietly but consistently enforced – to earn your dog's respect, admiration and obedience.
We will teach you how to control and get willing cooperation from your dog through simple enforcement and follow-through techniques – no yelling, punishment or bribery. Our famous Quiet Control is nature-based, patterned after dogs themselves and specifically how the mother dog teaches her young the rules and order of the "family".
Our Board and Train Service is the Gold Standard of the Industry.
For 25 years, Dairydell has been helping Marin and Sonoma County dogs and owners reach their full relationship potential. Led by trainer and award-winning author, Camilla Gray-Nelson, the Dairydell training team brings over 40 years of dog training experience to your special dog. You name it, we've seen it and we know how to approach and deal with it.
If you are shopping around for trainers, here are some reasons to choose Dairydell:
We are the ONLY Board and Train featuring dog training for women
We are the ONLY Board and Train offering an affordable, modular program with entry level options as short as 1 week, with additional modules which can be added a week or more at a time at any future date.
We are the ONLY Board and Train which focuses as much on service "after the sale" as we do on making the sale. When your dog "graduates", it is just the beginning of our relationship. Owner training classes at our Petaluma Training Facility are included in every training package and ongoing Maintenance Classes are held on Saturdays for all our graduates, all year long!
We've never had an advertising budget. Instead, we invest in your success so you will send your friends. Our amazing business has been honestly built on sincere referrals from grateful clients and there's no better marketing plan we can think of.
We look forward to serving you and your dog soon!
If you are looking for a cookies-only training program, this may not be the program for you. However, if you want to STOP unwanted behaviors the way a mother dog would quietly but clearly teach her young, you'll be amazed and thrilled! Read more about our Nature-Based training style HERE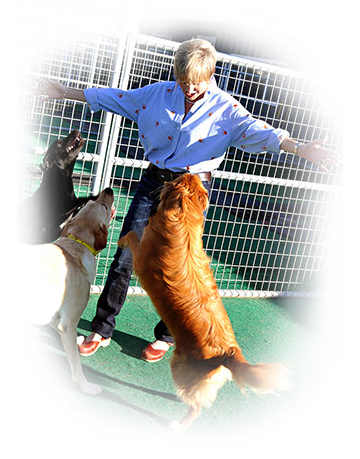 Dairydell Premium Board and Train Programs
Fast 5 Turnaround - Professional Training You Can Afford.
Now you can "sample" the Board & Train Services that everyone's been raving about at Dairydell.
For a Special Low Price
of $725
Our regular, full service board & train weeks start at $1,250/week… but now Dairydell is offering a 5-session Introductory training program for just $725!  A great way to experience for yourself how effective our nature-based training system can be for dogs, as our professional trainers work on:
Pulling
Leash Reactivity
Jumping
And once you have these basics, so much more training is possible!
"We picked up Gracie after the Fast 5 yesterday. What a miracle!
She has been a pleasure to walk with. We are grateful that you have made our walks with Gracie something to look forward to. 
We 3 are happy campers for sure!!"
Board and Train - Features Comparison
Behavior
Wide Open Spaces
4 Weeks
Off Leash & BMS
3 Weeks
Dog About Town
2 Weeks
My Home Companion
1 Week

Stay

Come

Pulling

Jumping

Barking

Stealing Stuff

Bolting

Leash Aggression

Training Equip. Package




Sit

Down

Heel on Loose Leash

Wait

Leave It

Intro to Hands-Free Walking

Hand Signals

Come (with Greater Distraction)

Hands-Free Walking

Off-Leash Hiking/Play

Whispered Commands

Distance Distracted Come

Emergency Stop/Drop

Field Whistle Recall

"Find Me" Emergency Recall

Owner Class – Basic

Owner Class – Intermed.

Owner Class – Advanced

Owner Class – Master

MAINTENANCE

Ongoing Maintenance Classes
@ $35

6 Month Maintenance Classes

1 Year Maintenance Classes

Lifetime Maintenance Classes
Meeting Your Dog's Needs.... and Yours!
Professional Dog Training in Marin and Sonoma Counties
Your dog will learn basic obedience at an accelerated rate under the guidance of a professional trainer. Your dog's personality and happiness is foremost.
Manners
Does your dog jump up, bolt out the door, steal food, get on the furniture, or anything else that is dangerous or annoying? Let us help!
Daily Playtime
While he is here, your dog can enjoy romping with other canines in a large play yard or run, complete with things to climb on, run through or play with. FUN! FUN! FUN! If he would rather play with humans, we can provide that, too.
Temperature-Controlled Sleeping Quarters
Cool or cozy - Summer or Winter.
Boarding Fee Discounts
Our 3 and 4-Week courses entitle your dog to discounted boarding fees when he returns to Dairydell for boarding while you are away.
Options for Special Needs
Personalize your dog's program with options like crate training, weight loss / conditioning, car and vet-manners - even sheep herding.. Let us customize a training program that's just right for you both!
"After School" Follow-Up
All training packages include maintenance classes and tutorial with your dog's new commands and how to give them. Dairydell's Owner-Training program is the most complete in the industry. Really!
Also Available
"Matchmaker" Consultations
Considering a new puppy or dog? Let us help you identify your best "match". Based on your personality and lifestyle, we will describe the very best type of dog for you, and how to know him when you see him.
$150.00 /hr. Contact Us Here
Behavior Consultations
Is your dog driving you crazy? Schedule a 50 min. consultation with us. We will analyze the source of the problem and give you strategies for success.
95.00 / 50 min. Contact Us Here
Group Classes — 7 Week Courses at Our Petaluma Facility
Get weekly professional guidance for training your dog at home. Classes at Dairydell include Beginning Obedience & Manners, Puppy Socialization, Housetraining, CGC Preparation - even Hand Signals!.
$215.00 / 7 Weeks Register Here
Rally-Gility Classes — 6 Week Courses
$170.00 / 6 Weeks Register Here
Sniffer Dog — Beginning Nose Work —6 Week Courses
$170.00 / 6 Weeks Register Here