"Because of COVID, I ended up with a COVID puppy: a puppy who hadn't had much training or socializing. She had become difficult for me to handle. After putting my Kyra in the six-week training program, my puppy came home a very happy and well-adjusted dog. As part of the training, the incredible trainers trained me how to handle her in a gentle and positive manner.
I also take her here for doggy day care. It is obvious that everyone there takes good care of her. Kyra confirms this because as soon as we near the area, she perks up and gets so excited! She can hardly wait to get out of the car. Her whole body wags with joy – not just her tail.
Kyra and I recommend K9 for training and day care."
Kathryn H.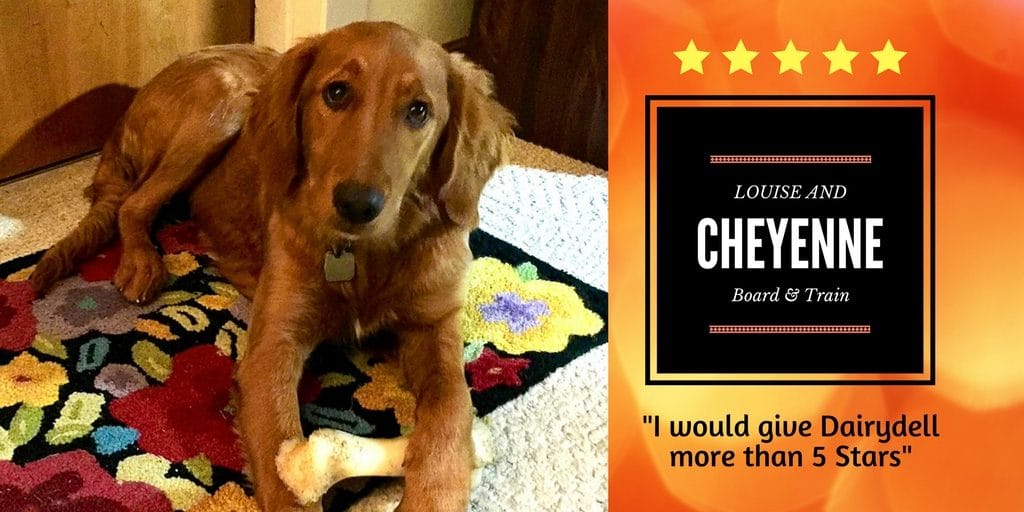 "My husband and I agree that Dairydell was the perfect place to board our Golden Retriever, Cheyenne. While she was there, we decided to have a trainer work with her since she was still young and needed help with her manners.
Before we could leave her, they tested her to see if she would be happy with other dogs or in a more quiet environment. We felt that every individual dog was cared for according to its needs.
I would give Dairydell more than five stars if possible. The Gentle Trainer leash has made Cheyenne well behaved on her walks. It has made a world of difference for my husband and me. We are both in our 80s and having a puppy was a challenge our family wasn't in favor of. Dairydell and the women who own it have made it a happy situation for all of us – including Cheyenne!"
Louise & Cheyenne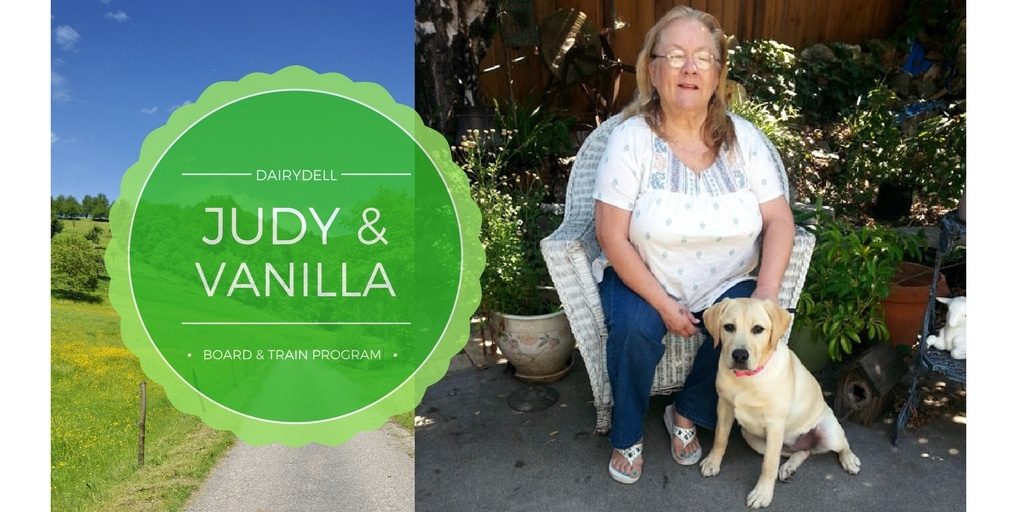 Just a short note to let you know how very happy we are with your board and training. Vanilla is like a new pup, and only after one week. We are using the skills we learned…and she is accepting them as she should! The best thing is, we are not exhausted any more. Thanks again Dairydell
Judy Metcalf & Vanilla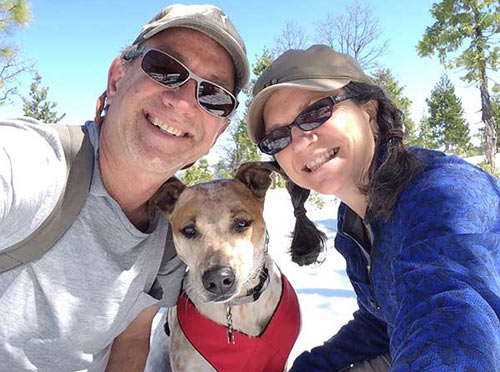 Hi Jodi, Kat, Camilla and the Great Dames of Dairy Dell!
In February of last year we adopted our then 8 year-old dog Sasha from Petaluma Animal Services. We brought her to you for training, particularly because she was very leash reactive. To this day we use the tools Camilla taught us and are happy to report that Sasha is thriving and doing so well on leash and with other dogs. She is still dominant but now she is polite and shows interest and curiosity with most dogs. Basically, she's not so bossy anymore. She's even learned to enjoy playing and running with other dogs. It's a joy to watch. She's become a great running partner for me as well. We're now starting to work with her off leash and are impressed with her listening skills and her desire to obey our commands and stay close to us. And we're training her to take her into assisted living communities and nursing homes. She loves people!
We wanted to give you a pupdate and thank you once again for giving us the tools and mindset we needed to help her be all that she can be – in the best possible way.
All our best, Susan, Bill and Sasha Zemanek
Wendy talks about her dog, Charlie, and how comfortable and happy he (and she) is with Dairydell Boarding Services and Staff.
Dairydell Dog Training customers, Massimo and Jessie, talk about how their dog has improved in terms of leash aggression, comfort and serenity.
Dairydell Dog Training clients, Vic and Rose, had almost given up on their dog, Austin. But thanks to Camilla and staff…. they have a great life together!
Karen talks about her German Shepherd's struggle with leash aggression and how Dairydell Owner/Trainer, Camilla Gray-Nelson made her a leader her dog will follow, happily.
Dairydell Dog Training customer, Linda G., discusses how Dairydell trains the dog and the owner and teaches the owner how to command the dog's respect.