By Popular Demand, Dairydell Doggie Day Care is Now Serving Sonoma County Dog Owners Year-Round!
Day care at Dairydell offers your dog exercise and mental stimulation while you are busy with your day. Whether running in our expansive hillside fields or enjoying the "mental jungle gym" of our wintertime complex, at the end of the day your dog will be happy and spent. And a tired dog is a good dog.
BUSINESS HOURS:
Monday through Friday – 6:30 AM to 6:30 PM   (closed 12:00 to 2:00)
Sat. – 9:00 AM to 3:00 PM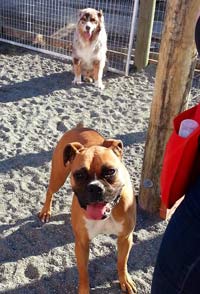 Once you register and your dog completes his 'test run' assessment, you can reserve your dog's weekly play days using our convenient Online Reservation Tool.
Our day care is staffed until 6:30 pm for pick-ups so when you get him home, your dog will be tired and happy. Better yet — you will be guilt and worry-free, knowing that your dog was not left alone to pine or get into mischief at home.
$30/day…
 for reservations scheduled with our 
ON-LINE RESERVATION TOOL
 as well as for "timely" reservations made via other means such as phone, email, or face to face. (
"timely" reservations are made by 5pm of the previous business day
)
$40/day
 for "drop-ins" as well as reservations that are not "timely" (
reservations NOT having been made by 5pm of the previous business day
)
All new canine guests must first come for a 'test run' trial day.
Dogs in day care must be crate trained (dogs nap in their crates from 12-2pm
Dogs in day care must always play well with others, regardless of circumstance.
Sorry, no un-neutered males or fighting breeds.
See you soon at Dairydell!