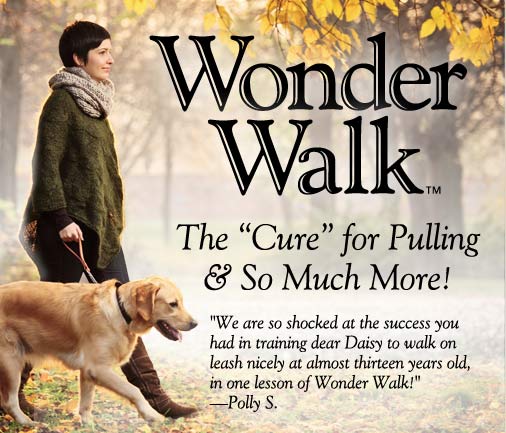 You may be experiencing any number of issues with your canine pal, from anxiety at home to leash aggression in public to general disobedience...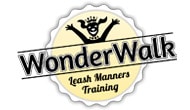 Regardless of issue, you cannot proceed to improvement until you earn your dog's trust and respect. Your dog must believe that you are a Leader in whom he can put his trust and to whom he can safely defer his will.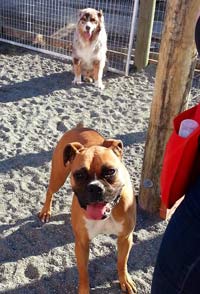 Our Wonder Walk training is available to all boarding and daycare clients when they stay with us and can produce profound results in just a day! Our secret is mimicking how dogs use positioning to define their own status ladder. The dog in charge will take the lead position and require all others to walk slightly behind to acknowledge his position. Once your dog is taught the Wonder Walk and you are taught how to enforce it, you are immediately put in the natural Leader position! And when you are the Leader, not only have you stopped leash-pulling and forging ahead, but set the stage for all future training and behavior improvements!
Dogs establish their pack order with a series of natural nips, bumps and barks. All of these tools help the Lead Dog to say to the others, "Don't walk ahead of me! I lead, you follow."
We speak this same nature-based language, using specialized tools and teach YOU how to use them appropriately in your Wonder Walk class. Best of all, we show you how Wonder Walk leash manners are achieved calmly and quietly, with absolutely NO yelling, intimidation or bribery.
When you make every walk a Wonder Walk, your dog will:
Stop pulling on the leash
Become less leash aggressive
Be more polite in greeting new people
Be calmer, overall
Become more attentive to you
Sign up for Wonder Walk training next time you board and prepare to be amazed!
(Or reserve an overnight just for Wonder Walk training!)