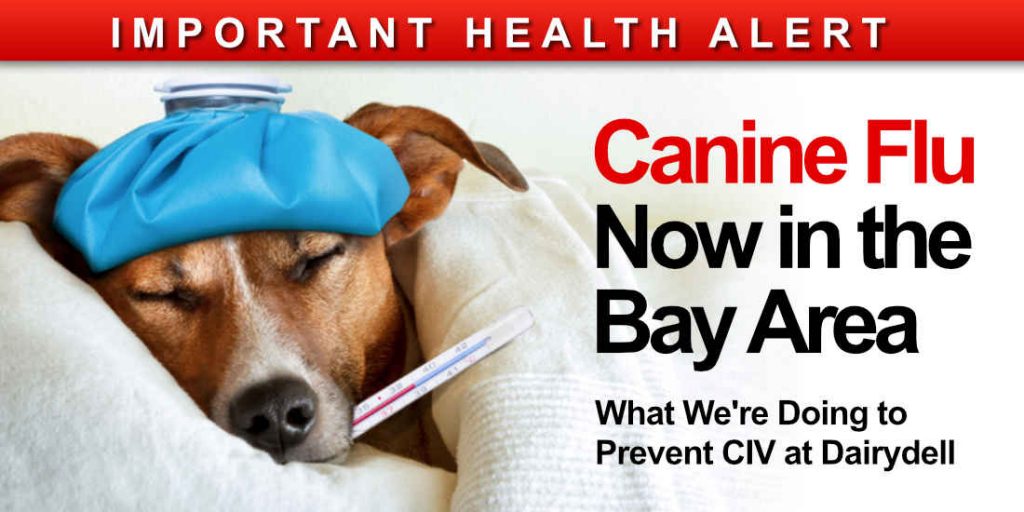 CIV is a new, serious, highly contagious airborne virus affecting dogs across the U.S. and is now in California.
There is up to an 80% infection rate for unprotected dogs that are exposed to infected dogs.
CIV was first reported in the SF Bay Area in 2018 by vets in the South Bay.
Soon after, cases were diagnosed in the East Bay.
As of Monday, 1/22/2018, cases have been diagnosed in San Francisco, even closer to the North Bay.
It is both "reasonable", and safe to assume that it will continue to spread.
Two strains have been identified: mainly H3N2; but also H3N8 to a lesser frequency.
There has been ample news coverage and there are press releases readily available on the topic for those that have been paying attention, or for those that are interested in finding out more.
The new CIV vaccination helps protect dogs against both strains of the current disease, by either preventing the infection or lessening the severity of it if contracted, as well as slowing its spread among populations.The vaccine is a 2-dose series, each dose given 2 to 4 weeks apart.
For these reasons, Dairydell has made the decision to require "completed" CIV vaccination for dogs coming to Dairydell on or after Wednesday February 14th, 2018. This applies to dogs with pre-existing reservations with us as well all future stays and/or group class attendance and this requirement will continue until further notice.
The CIV vaccine is available at many Bay Area vets, as well as most VIP clinics.
What To Do...What Does This Mean for You?:
For dogs that are more home-bound, there is less risk of exposure to other dogs than for those that go to higher populated places (such as dog parks, kennels, groomers, and day care, for example). Stated another way, the more dogs come into contact with other dogs, the higher their risk of exposure and the need for such protection
You can reduce your dog's chances of infection and of infecting others, by being "proactive" and getting your dog vaccinated against CIV. Feel free to consult with your vet as you make this decision but please, make certain you make it clear if your dog is or will be coming to a canine group facility, with higher risk of exposure
What Dairydell Has Done, and Is Doing to Prevent & Control CIV in Our Environment
We're being proactive – on your behalf!
For more than the last week and a half, we've been proactively communicating by phone, hand-out and email, our "strong recommendation" that all our clients get the CIV vaccination.
This is a fluid situation – one we cannot control, and we originally communicated that we could be moving to a decision of "requiring" the new vaccine, before any further stay, when that proves to be the most responsible decision. We are now at that point.
We are staying in touch as best we can with news of the virus's spread, by close communication with local veterinary offices, news reports, and other local boarding and day care facilities.
We know that we must be proactive – "out in front" of the virus, to provide the highest level of protection for Dairydell clients. Being reactive, on the other hand, would be like closing the barn door after the horses are already out – it would serve no useful purpose. We choose to err on the side of safety and hope you understand
Based on the full vaccination being a two-step process over at least a two-week period, our sense of responsibility forces us to make the decision now. So, as of February 14th 2018, proof of "completed CIV vaccinations" will be required to keep any existing reservation or make a new one.
We do understand the concerns this raises, as well as the inconvenience (time and money) it presents. So please understand, we do not take this requirement lightly! Quite the opposite. We make this decision deliberately and only after careful and considerable thought for your dog's safety. Dairydell is committed to providing you proactive, open communication, and we're willing when necessary, to make difficult decisions to be able to assure you, our valued clients, the best possible care that we can!
Best regards,  Dairydell Owners: Kurt & Camilla Gray-Nelson